winmotor next, the software dedicated to the management of your car repair shop and i2i (Electronic Parts Catalogue),The perfect tool for your daily work.
In collaboration with ISI CONDAL, first EPC provider in Spain, we are pleased to release in the Italian market our new i2i parts catalogue integrated with our DMS winmotor next.
i2i is designed to ease the identification of your customers car and to provide you all the technical documents you need on a daily basis.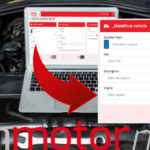 i2i catalogue benefits are:
Electronic Parts Catalogue  has never been so easy!
It reduces time and costs
It is available in your country and your language
Fully integrated with winmotor next
By choosing i2i you will get both benefits financial and intangible, by turning over work faster and keeping your staff and customers less frustrated, you have the control to transform your business processes.
Do you want to see how i2i catalogue works?
FREE DEMO